My life is more than my work
HATS IN SONG & STORY: I noted that I had 3 different covers of the jazz song "Goodbye Porkpie Hat" on my iPod; by its author Charles Mingus, by Jeff Beck, and with lyrics by Joni Mitchell. So I decided that I needed to own such a hat. I haven't lost it yet, so I haven't had to say goodbye. But I did lose a trilby hat, which I looked up for the reference in Sir Elton John's Can I Put You On? Turns out, the answer is yes.
STINGY-BRIM HATS & OTHERS: Besides some porkpie hats, I have a few fedoras, another trilby, a bowler that needs repair, and also a homburg; no song references for those others. But this is one John F. Kennedy legacy that I've said goodbye to ... a bare head (though an excellent myth-debunking website, Snopes, says the claim re: his inauguration was not true). I'm a hat person now, and not just baseball caps. I look for hat sales wherever I go, but when I look online, I like Hats In The Belfry, and not for the pun. Well, not just.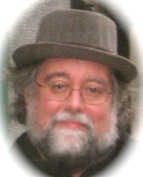 Me in a tweed diamond-crown pork pie hat