My work is more than my job

cirt: Under the auspices of OMH again, some of my coworkers and I volunteered with the cirt - the Critical Incident Response Team. I joined a similar team at Creedmoor Psychiatric Center, but the South Beach team was by far the more active ... more than most such teams, in fact. A few had to do with our work-place, but many more were in the general community. And there had been many, many NYS offices in the World Trade Center. We were very busy in the first few years. 
On the one year anniversary, 9/11/2002, it was my team that was asked to be in "the pit" (aka Ground Zero, aka the Freedom Towers site) for the families who stood with President Bush, Governor Pataki, Mayor Giuliani, and other politicians for the TV broadcasts. Our team was also selected to aid POPPA ... Police Organization Providing Peer Assistance ... in their support of fellow NYPD officers. I still have the "POPPA bear" that we were gifted ... a teddy bear sporting an NYPD badge. 
cirt is a tight, supportive, cohesive group that does great work, and we look *bad* in our "bubble" jackets!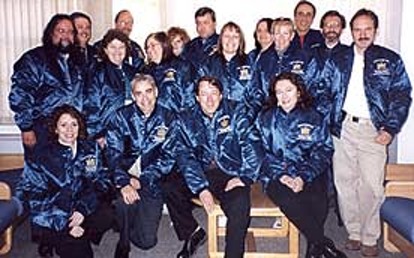 Me, far left, and Gary Bisogna, the leader of our team, far right, from an article entitled "Creedmoor and South Beach Heroes" in The Communicator, the official publication of the NYS Public Employees Federtion.
It's terrific work, and important; I'm glad to have had experience under my belt before the events of September 11, 2001, as well as during and after. I'm rejoining my friends and colleagues on this team  in my retirement.